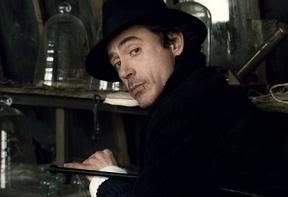 I was sure I wouldn't like this film. Sherlock Holmes as an action hero, in Guy Ritchie style? No way.
I was in for a surprise.
My first impulse was- "this is ridiculous and it makes no sense". Well, it doesn't, does it?- which is exactly what makes this film memorable. Maybe I am giving Guy Ritchie way too much credit, but he didn't simply made "Sherlock Holmes with many fight scenes"- he actually made a pretty good deconstruction of the story. Ritchie's reading of Sherlock Holmes might not be close to mine, but he managed to make a memorable story which, against all odds, make sense- the way it is.
Unique reading of the story
First ten minutes or so were predictable, in a way I was almost bored (excessive movie action often does that to me). But restaurant scene with Mary blew me away, and it's followed by the boxing match- so yes, you could say it got me interested.
Roger Ebert wrote in his review, "The less I thought about Sherlock Holmes, the more I liked "Sherlock Holmes." Which is a good advice for anybody who likes traditional interpretations of A.C. Doyle's stories (or anyone who is not crazy about fight scenes). But one must understand this is Sherlock Holmes; it's not any less "true" because it's not traditional. It's Doyle's world deconstructed, and you can see this in all the little details: allusions to original A.C.Doyle stories (along with quotes), setting (not true to the time, but not random either), and, perhaps the most interesting one, the clues left for the audience to deduct character's past.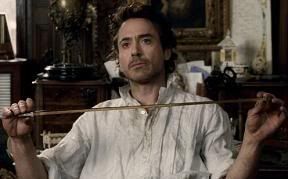 The best thing about this film, however, was Robert Downey Jr. His dirty, sweaty, smelly- but at the same time witty, hedonistic and egoistic Holmes is simply captivating. As interesting Ritchie's reading of the story might be, not many actors could pull it off. It simply wouldn't work well- or work at all- without Robert Downey Jr. Just like Johnny Depp is captain Jack Sparrow, Downey is this unique Sherlock Holmes. He completely stole the show- but it's more than that. There wouldn't be this film without him. Period.
The bad things?
You can't really count often incomprehensible action sequences, since they're meant to be that way. The only thing I really disliked were the female characters. Kelly Reilly's Mary was so and so, but for some reason I couldn't stand Rachel McAdams as Irene Adler. "She looks and acts too modern!" would be my first complaint, though, in whole honesty, you can say that for all the characters, as well as setting. But I still feel she didn't belong there; she wasn't captivating enough, interesting enough, memorable enough. Maybe the woman simply can't act. But I am so happy they didn't (spoiler) have wild sex (they didn't, did they?), that would spoil everything.
The best of
-Boxing scene with "Rocky Road to Dublin" in the background. Not as amusing as fight scene in "Snatch" with "Golden Brown" in the background, but equally awesome.
-Art direction and cinematography. They are excellent, and serve the story perfectly.
-Watson with a brain. I hate interpretations that make him mentally slow (to say the least).
-Clues left for us to deduct character's past.
-Unique vision of the story and setting.
-Last, but certainly not the least: Robert Downey Jr.