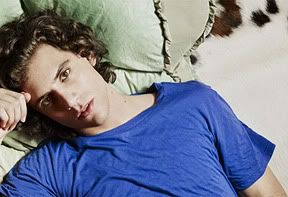 I'm not your regular music geek, but I am some sort of music obsessed. Mostly rock music.
The irony: I am untalented for singing or playing (not that I don't try to play bass guitar from time to time), and I am definitely not one of those people who can name every single obscure alternative band from the 80s. Alternative rock (whatever than means exactly) is great, but I don't have any problem admitting my passion for more "mainstream" stuff, too.
But when I look at my playlist, I do see it's mostly rock music- some sort of it. As if other genres don't really work for me. Another thing I notice is the lack of music created in the last-what? 10 years or so. Yes, I am getting old and I can't stand modern popular music. Apparently.
And yet, there are some songs that I like, against all odds. I try to resist the urge to actually feel ashamed because of it. Only one of these songs could be somewhat categorized in the rock subgenre (perhaps), and most are recent. Some of them are quality songs, but not in a genre that usually gets my attention. Other clearly lack substance, but were overplayed and catchy enough to make an impact.
Right Here, Right Now (Fatboy Slim)
It was a smashing 1999 hit. To my knowledge, this is the only Fatboy Slim song I really liked.
Why this song? I must admit, it's not so much for the song- it's the video. I consider this video to be one of the best ever created. It's certainly my favourite. It must be noted this was the only time I liked the song because of the video.
Why is this surprising? I am not into this kind of music… Whatever "this kind" might actually be.
Sky (Sonique)
Wikipedia defines it as "a trance-house song by singer and DJ Sonique", released in 2000. It was a big hit where I live, but for some reason people in general don't seem to remember it.
Why this song? "Oh I wanna touch the sky I wanna fly so high / Oh I wanna hold you I wanna love you tonight". It's too catchy to resist.
Why is this surprising? It's not particularly surprising, considering the fact that I like to dance, even as this clumsy. I do feel rhythm inside me. But I am not usually impressed with this type of songs.
Ya Soshla S Uma (t.A.T.u.)
Yes. That one. Russian (and, I believe, original) version of "All the things she said", created in 1999. Remember these energetic fake Russian lesbians? (Fake lesbians, not Russians). And yes, their music is too catchy to even make sense. Their Eastern European accents are clearly touchable when they sing in English. They sound better in Russian.
Why this song? Because of the atmosphere at one moment in the song. And yes, that's about all.
Why is this surprising? You're kidding, right? Do I really have to explain?
Bring Me to Life (Evanescence)
Yes, they were a rock band… Technically. But I never considered them as such. This song was impossible to escape in 2003. It's not that I was ever overly impressed with their music, or even the lead vocalist, but out of all the crap that was out there at the time, this one stank a little less than your average Britney Spears song.
Why this song? This damn thing was catchy and impossible to escape.
Why is this surprising? Because even with Amy Lee's voice and electric guitars here and there, this song (or band's work a s whole) never managed to make me believe they are a rock band (I have the same problem with Bon Jovi).
Relax, take it easy (Mika)
Seriously, people. We need more quality vocalists in popular music. And Mika is such a great singer, he could make me listen any sugar-high-pitched-song there is. And this one is actually memorable enough. That being said, I hate remixes.
Why this song? Because it's actually a decent song. Perhaps the best on this list, sung by a really good vocalist. And it makes me feel calm, yet excited.
Why is this surprising? I prefer deeper voices. I don't particularly like when a man sings that high: apart from concern for well being of his testicles, I can't really enjoy the velvet beauty of a baritone.
See also: 5 songs I dislike against all odds