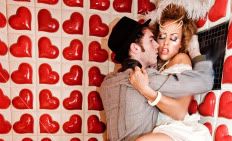 I'm at that precious place in my NaNo novel in which I about to write my first sex scene in… Let's see: 13 years. I am not nervous about it (lol), but it does make me think about the whole problem of writing interesting, yet tasteful sex scenes in novels.
By "tasteful" I don't mean on keeping it polite. Frankly, if you are too freaked out by words such as penis, vagina, or it's numerous slang variations, you are not ready to write sex scenes, unless it's fade to black – and you can't really count those as sex scenes, now can you?
A good sex scene in a novel is like any other good scene in a novel: it serves its purpose. If you are writing erotica, your goal is to make people aroused. If you're not, you might (or might not) want to achieve a different effect. It all depends.
Last time I wrote a sex scene I was a virgin. It was really, really fun (writing sex scenes, not being a virgin), and I enjoyed it. (No, not in "that" way!
) They weren't as bad as one might expect, but I was never graphic. It was back in the days when I was unable to write words "fuck" or "shit", despite the fact I had no problem using these words (and worse ones) when speaking. But to see them on page? No way! But I digress.
My current novel is a coming of age story with these young people who are, more or less, miserable. And I am not talking about the usual teenage wangst, but on family problems and shit and what not – accompanied with the usual teenage wangst. There are several sex scenes planned, most striking ones involving each of the main characters (there are three of them) losing virginity… for good or for the bad. I am planning to write it in a distant, almost cold and clinical manner. It simply suits the story (and its style) the best.
The main problem I'm having with the scene I'm about to write is the fact it should be told from male POV. It freaks me out. (Not male POV in sex, but writing from a male POV). I might be a tomboy, but I don't know much about the way men think. I don't think I am good at writing anything from male POV, let alone a sex scene. On the other hand, my husband says I am doing a good job with the (regular) scenes from my male character's POV. But still, this is different.
Basically, how to write a believable scene in which this guy loses his virginity? <- a rhetorical question (but if somebody is eager to offer his advice, I'd be more than happy to hear it :D)
How NOT to write a sex scene
Learn from the best (worst?) Here's a striking passage from the (in)famous camp classic, "My Immortal", by Tara Gilesbie:
"Draco climbed on top of me and we started to make out keenly against a tree. He took of my top and I took of his clothes. I even took of my bra. Then he put his thingie into my you-know-what and we did it for the first time.
"Oh! Oh! Oh! " I screamed. I was beginning to get an orgasm. We started to kiss everywhere and my pale body became all warm. And then….
"WHAT THE HELL ARE YOU DOING YOU MOTHERFUKERS!"
It was…………………………………………………….Dumbledore!"
Ok, this might be a bad example, because it's essentially an epic win. But you get the idea.
Useful links:
IKEA Erotica
Shortlisted books for 2008 Bad Sex award