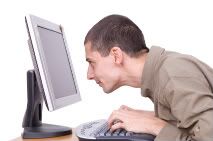 I am addicted to Internet. Or, shall I say, I depend on it. More than I like to think I do. I was without Internet for a day and I felt like something was missing. Not a good thing.
On the other hand, I don't feel too bad about it. After all, I believe Internet can be a great thing, if used wisely. I like to think I am a wise user. But the thing is, I DO spend a lot of time online.
The problem is that things online always last longer than you expect them to. I can read long passages of text online, but I guess it goes slower than on paper, especially if it's in English. Also, I consider myself an experienced Google user, but sometimes it takes a while to dig up the right information. And not to mention commenting on message boards and blogs- the writing itself doesn't take much time, but if you want to wait for a reply… You see what I mean. So yes, sadly, Internet is very time-consuming, even when you try to rationalize the use (which I rarely do, and even when I try, I can't limit myself for the Internet time- I always end up online more than I planned).
The good things about the Internet is that it can be your connection to the rest of the world- the people, information, stuff you need, or want to learn about. It's a great thing. Since I can't travel at the moment, this is my only chance to meet people all over the world. I guess it sounds cheesy, but it's true. I've met so many great people online, and I've learned a lot about other cultures. Because I can express myself better in written communication I find it easy to meet people online, which is also a good thing. Learning is also easier online; you can find articles and books you couldn't afford otherwise. Not to mention movies and music… But now I'm stepping into the illegal territory.
I've discovered Internet in the early 2000s, at the time I was really lonely and depressed. It helped me focus on something and it made me think less about the bad stuff. But sadly, lonely people can get addicted pretty fast. I don't think I ever got too addicted, though. There are so many things I prefer over the Internet, and I don't want my family or friends suffer because of it. Still, I do enjoy being online, and yes, I admit it, it's partly because of escapism.
So I guess spending less time online would be good, but I don't think I'd love to be Internet-less for a long period of time.