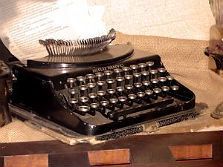 Writing process is individual, and what works for one person might be completely useless for somebody else. Still, here are some essential things most writers need to learn how to do (in their unique ways):
Reading
You can't be a good writer if you don't read. Read a lot, read good books, read bad books, read books of the kind you want to write. It's more than just having fun: reading makes you understand what works and what doesn't work in a novel.
Inspiration
Learn to recognize a story idea when it presents itself to you. This is one of the rare effortless moments (everything else is hard work), so learn to embrace it. When something seems inspiring, or when you start thinking about a plot idea or a dialogue, make sure to write it down.
Outlining
Outlining is expanding your idea, and it's all down to your unique writing method. No two writers do it in the same way. There are plotters and pantsers. Plotters like to have every single thing planned before they sit to write the first draft. Pantsers start without an outline, but that doesn't mean they work without one. For these people, a first draft serves as an outline. Whatever you do, you need to find a way to expand your initial idea into a coherent story. Since there are many different ways to do it, you need to find the one that works for you. The only way to know is to try and see what suits you.
Writing
This is the actual process of putting words on paper. Never (ever, ever) mistake an outline or a story you have in your head for the actual writing. If you want to be a writer, you need to WRITE. You need to put those words on paper (a real or electronic one, doesn't matter) to produce a first draft. It's not easy. Most of it will seem like rubbish, and a lot of it will be rubbish. You'll experience frustration, inspiration, confusion and a writer's block. It's important to keep writing. If you have to, set a strict regime. For example, write two hours a day. No exceptions. You'll write even when it's the last thing you want to do, even when your words seem like the worst crap ever written. This is the only way to get it done with the first draft and the only way to practice your craft.
Revising
This is another big step. You need to learn how to turn that mess of a first draft into something that makes sense. Again, the revising process is highly individual, so you need to learn what works best for you. Some people start with identifying problems with the story. Others revise line by line. Some include Beta readers right from the start. The only seemingly universal thing about the revision is that you shouldn't start it right away. You need to put your story aside for a while and get back to it later. All stories will need at least one revision, probably more. However, you also need to know when to stop revising. There's no need to do a 14th revision of a story. At one point, you just have to let it go and move to your next story.
Sharing
You can't write a good story without some constructive criticism (emphasis on constructive). This is what Beta readers are for. In a way, this step is part of the revising process. Some people prefer to share their material with Beta readers right from the start, while others choose to make the story as good as possible. Some even share the material in the process of writing the first draft, or even before, when they're outlining or thinking about good solutions. Whatever you do, understand the importance of Beta readers (and other people who can help you). You need this feedback; no book exists without readers.
Publishing
Not all writers want to publish their work, but unless you're writing diary or a story for yourself, chances are you'll want people to read your story. There are many ways to bring it to the readers, from sharing it among your friends or publishing it on your blog to seeking a commercial publisher. Each of these methods require a different approach, so you need to know what you want for your story and you need to understand the rules of the game. If you wish to be published traditionally (or even if you want to self-publish), you will need to deal with the business side of writing. Many writers refuse to think about writing in commercial terms, but you need to understand how things work in order to choose the best path for you and your work.