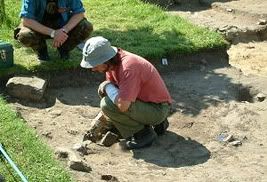 Guess what? It's official. I graduated. I got my diploma. (Well, not really – I got the paper that's equivalent to it, I still have to wait for the diploma itself). Oh well.
Now, I passed all of my exams a while ago, and I even wrote my graduation paper, but it took months to finalize everything so I could graduate properly. So, it's official now: I am an archaeologist. My diploma (that's still not ready) is actually equivalent to Master's degree, which means I can go straight to PhD studies. Naturally, I can't afford those, so my only hope is, yes, to be one of a few lucky bastards who get to study for free.
There's also a very, very unpleasant thing called job/connections hunt. I don't know what to do about that. It's scary beyond words. It's so scary I sometimes think about emigrating. And I was never one of those people who were into that. So I don't know what to do about it, really. I am shit scared when it comes to job hunt and all that surrounds it.
PS-On a sidenote, I got this writing excitement and I am so excited about writing again. My NaNo novel might not be anything special, but it feels so great to write again! It's been a while. I really needed this. I'm at around 25 000 words now (which is half of what's required) but I'm only 1/3 in my novel. I actually have to do my best to restrain myself. The style is supposed to be detached and dry, but I am so happy to write again that I feel like I'm 14 again…