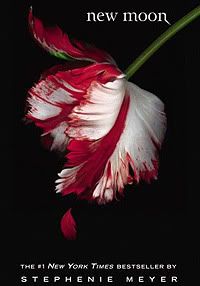 Saying something is "the best in the series" doesn't mean much when it comes to Stephenie Meyer's work. So, instead "the best" put "not the worst" and you'll get it.
No Edward? Yay!
"New Moon" is poorly written, lacks plot and fails at logic. Just like any other book in the "saga". Still, it's a bit better than the rest (I still have to read Breaking Dawn, though). Why? Well, first of all, for the most of the book, Edward is absent. I'm in no way in "team Jacob" or whatever you call it, but he was a better character (at this point anyway), and we were spared from Edward's controlling, abusive "perfection" for the most of the book.
A message for teenage girls
I actually enjoyed first part of the book, if nothing else, it made sense (which is not that common in the Meyer world). Sure, we had "the ultimate depression and suicide thoughts because your boyfriend left you" Bella, but even that worked for me. Why? Because it shows, pretty realistically, what is like when you're absolutely obsessed and how desperate you become when the source of your obsession leaves; this kind of unhealthy feelings and bad relationship is very sad indeed, but it's realistic. After all, Meyer finally has an opportunity to really set an example for all those teenagers who love "Twilight". Watch this, young ladies, and do the opposite. See how unhealthy and creepy obsessions are. Of course, setting an example is not really what Meyer wanted to tell us, since she pictured Bella's feelings as something normal and good, and her relationship with Edward as true love. Yeah, right.
Do I see a healthy relationship here???
And then we have Jacob. At this point, he seems like the only decent character in the series (apart from Charlie). I'm not sure if Meyer herself was able to recognize this, but she actually managed (for the first and last time) to create a believable, healthy relationship between two people. Yet, she was as stupid as her "heroine" and was 100% unable to recognize this.
Take this for example: All Bella knows about love is an obsessive relationship with her abusive, controlling boyfriend. And now, she's with a guy who makes her smile, who does a lot of nice things for her, who comforts her, who likes her and TREATS HER AS AN EQUAL (well, more or less). And Bella does feel something for him- but she can't tell what that is, because all she knows is obsession.
To quote "New Moon":
"I couldn't stand hurting Jacob; we seemed to be connected in an odd way".
Odd way? That's love, you stupid bitch, but of course you can't recognize it, since it's not obsession and since your creator (Meyer) can't recognize it either.
"Blah" ending
Well, Meyer has to continue with her own obsession with Edward, so we get another amazingly stupid plot, even a little action (in which we learn Bella is even bigger Mary Sue, since she is immune to the powers of the most powerful vampires on Earth), and before you know it, she gets another happy (book) ending with Edward. In the process, she breaks Jacob's heart and shows exactly how selfish and bitchy she is, and demonstrates in several perfect examples she doesn't fucking care about Jacob's feelings. But fear not, he will not act like a realistic character in the next couple of books, because he won't tell her to eat shit and die, but will start to obsess about her really hard (until we find out in the book 4 that – SPOILER – he was, in fact, in love with her egg cell /SPOILER).
All in all, this is the best shit by Meyer so far, but still shit and still full of really bad messages for teenagers.