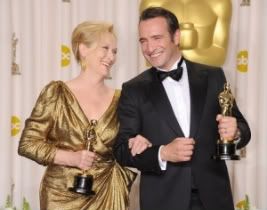 Maybe it's just me, but Oscars seem more and more pointless each year. I'm not even referring to snubs and film quality (this goes without saying). I'm talking about the ceremony itself. The stage is getting smaller (or so it seems), the performances rushed, everything seems like an average award show. Still, Oscars are seen as the most important movie awards, so I don't get it.
I remember watching the ceremonies when I was in my early teens. I'd stay up for whole night (the broadcast starts in 2 AM or so and lasts till 6 AM), and while I never believed the the glamor or the importance of this award, watching the show has become something I just do. So I know what I'm saying when I'm talking about the whole thing turning from a show everybody wanted to see to "just another awards show", only more boring.
While shorter ceremony does make some things less boring, it also seems so rushed, and some things I've always enjoyed the most (performing nominated songs and presenting movies nominated for the best film) is gone. It turned into a rushed presenter – announcing the winner – rushed winner speech, interrupted by stupid jokes by uninspired hosts (stupid jokes are Oscars tradition, though).
It seems like they don't even care about this, and the usual snubs and the politics of the award are still here, which isn't a good combination.
This year, though, I've had my reasons for watching the Oscars: Gary Oldman was (finally!) nominated. And while I'm not really sad that he didn't win (I'm ok with Dujardin; better him than Clooney or Pitt, if you ask me), I am so pissed off at the director of the ceremony. They didn't even acknowledge Gary's existence in the room before the leading Actor award. I mean, WTF, people? Usually, acting nominees are in the spotlight. But the way they did it, you'd think Gary wasn't even there! The dog from the Artist got more screen time, and while I'm not against animals being in the spotlight, it's just confusing.
So the main appeal of this year's Oscar ceremony was totally ruined for me.
I don't have much to say about the actual winners. I haven't seen most of the ladies' movies so I don't know if Meryl deserved this Oscar or not. Unlike many people (who think she's overrated) I think she's a great actress. Still, it's interesting that she's one of the rare actresses (or actors in general) who can play in a crappy movie and still get recognized for her performance because she's good. This simply doesn't happen. Being good in a bad movie usually means to be ignored (it happened to many).
I refused to watch the Help so I don't know if Octavia Spencer was the best supporting actress, but people say she was good, so I'll believe them. It's great that Christopher Plummer finally got recognized, but sadly, that meant snubbing Max von Sydow. Like I said, I'm ok with Streep – she is a fantastic actress, but then again, so is Glenn Close, and she went home empty handed. As for the lead actor, we all know how I feel about this. I'm cool with Dujardin, and I'm also cool with the Artist winning the best picture and the rest of the things it won. If it couldn't be Gary, I'd rather see Oscar going to Dujardin than Pitt or Clooney.
So, I'm not pissed off by the winners, but I am about the ceremony. Watching Billy Crystal's botoxed face was painful, and I didn't get to see the man I wanted to see the most, because, obviously, Gary Oldman didn't seem interesting enough for those in charge with the broadcast. So I have to repeat: WTF, people!