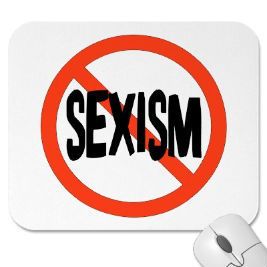 They say people change and evolve, which is probably true. However, sometimes is difficult to understand the change. For example, look at me. I consider myself a feminist (honestly, I don't understand people who are proud not to be one), but I never defined myself a a feminist in a political sense of the word.
In short, I agree with the battle and I fight for equality, but the whole feminist movement seems to be so fucked up in certain things, and I don't want to associate myself with it.
But lately… I see that everything around me reeks of sexism, and I'm slowly becoming that one person I never wanted to be who finds everything offensive.
Now, don't get me wrong: everything IS offensive, one way or the other. The way our world is set, almost everything IS sexist, racist, homophobic, xenophobic, etc. It's not an exaggeration; it's a fact. The sooner people realize these things are not some rare abominations but the everyday stuff that make our world, the better.
However, I was able to control my disgust and not to take it emotionally. I laughed at stupidity. Women's faces never shown in commercials, just their breasts and butts? Now how stupid is this shit? Media telling me I should be thin in order to deserve respect as a human being? Ask me if I give a fuck.
Part of this reaction, obviously, comes from the way I was raised. I'm the only child, and I never felt like my parents wanted to have a boy. (In fact, my mother was always clear on the fact she strongly preferred a girl). I was never told I can't do something because I'm not a boy. It went without saying I'd graduate from an University and I was encouraged to have career ambitions.
It also has a lot to do with my country. Yugoslavia was a socialist country (though we had our own, non-Soviet dictated version of socialism), and socialism values a worker regardless of gender. It meant that there were many female workers in traditionally male occupations. Female doctors, engineers, scientists, professors – none of this was seen as strange. Hard science and medical science universities always had about the same male to female ratio (but not the "traditionally female" schools, such as nursing or kindergarten teachers – not many guys went to these schools).
In any case, the economic situation wasn't bright enough so both parents had to work. Which resulted into working moms. All mothers worked, and the pay was equal to the one men received (the whole ex-Yugoslavia region still has a very little difference in salaries between men and women; it's less than in Western countries, especially US).
None of this means feminist utopia or gender equality, though. Women with careers and working moms were a norm, but women were still expected to do all the household work all by themselves. So, her husband would come back from work and he's watch TV or read the newspaper, and she'd have to cook the lunch and clean the house. But I digress.
The point is that I grew up without messages telling me I can't do something because I'm a girl and not a boy. I suppose it made me a bit unprepared for the real world, because I might not be able to recognize sexism or inequality. But that's the thing: I was usually able to laugh it off, unless it was something extreme, such as violence towards women.
But lately, I've been noticing all those things, everywhere, all the things.  The way women are portrayed in media, still treated as sexualized dolls. The fact there is still not easy to find a movie with two female characters talking to each other about something other than a man. That media still treats a man as a "default human being".
And it just makes me sick. It makes me sick like it never made me sick before, save for that one time when I was 14. I guess what I find strange is that I don't understand why. Why now? Why do I care, now? Why can't I laugh at it and think they're stupid and noooo way I'd buy their sexist product – and then just go on with my life? Why do I invest any energy into this?