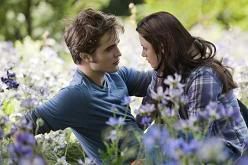 To be honest, I can't make up my mind about "Twilight" movies (or books for that matter). "Too bad it's hilarious" or just "too bad"?
To be honest, I must admit "Eclipse" movie was a slight improvement. Directing was better, script fas a bit more coherent, and even (even!) acting was a little less horrible. Don't get me wrong, the movie was bad, messy and embarrassing. But it was more watchable than the previous instalments. Now that's something, isn't it?
"Eclipse" has its wonderful, campy, narmy moments, but there are not enough of them to make up for nonexistent story, empty dialogue and overall pointlessness of the movie. There's also the issue of music- along with indie songs there is a serious (way tooo serious) and "epic" score. Such music is accompanied by trashy dialogue and scenes in which absolutely nothing happens. It tries (badly) to tell us meaningless dialogue along the lines of "Jacob is my friend, I want to see him" is extremely important, but it fails. The effect is somewhat amusing, thought, and it does approach the "trash gem" line.
As for the actors, I must say Kristen Stewart blinked a little less so she was less annoying, but she still looks completely bored (I don't blame her). Robert Pattinson manages to be strangely absent and unnoticeable, which is a gift, given the fact he's always there. He is there, but we just don't see him. I don't know how they did it, but it's a good thing, because he still acts like he really, really needs to go to the bathroom every second he's on screen. Young Taylor Lautner looks a bit older here, so his abs match his face a little better. His acting, which was almost unwatcheable in the previous movie, is a bit better- but only a bit.
All one can say about supporting characters is "blah". Humans are not important, vampires don't look like vampires, wolf pack is one huge fan service. Dakota Fanning and Jackson Rathbone are the only one who deserve a mention, and not for the same reason. Fanning can act, and she's good- as good as you can get here (which is not far). She is the only one who managed to turn an extremely weak material into something "ok", which means the girl is really, really talented. As for Rathbone, we all know he can't act, but somehow he does look unnatural enough to pass for a vampire. The "I'm about to crap" face works better on him than Pattinson, that's for sure.
The worst things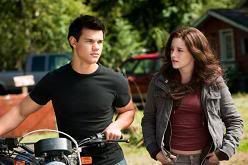 Special effects were embarrassing to watch. Wolf pack, I'm looking at you. But there were other trashy effects so if laughing at those is your thing, "Eclipse" won't disappoint. And I do admit, they were a bit better than "New Moon", but still highly cringeworthy.
Also: makeup. It's bad beyond words. Edward, who is supposed to be the most gorgeous guy on Earth, looks like a drag queen on a bad day (nothing against drag queens, but I don't think that's the look they wanted to achieve.)
The plot. Strictly speaking, it's not filmmakers fault. We all know what was the source material. Simply put: it was boring. All they did in the movie was talking. And since we all know how uninspiring characters are, listening their endless dialogue was not a highly amusing thing to do.
The best things
The best things were the above mentioned narmy moments. No words to describe such scenes as "Edward, I promise, I'll go to college and I'll let you buy me an expensive car, and I'll marry you, just please, fuck me!". The legend of the third wife is also a gem, and so is homoerotic tent scene. Another good thing was the infamous scene in which Bella orders Jacob to kiss her under the fake mountains, with "epic" music in the background.
Dakota Fanning's portrayal is the only non-narmy thing that was good in this movie.
The Verdict?
All in all, "Eclipse" is not clever, or ironic enough to pass for camp. It still takes itself way too seriously. It's not even trashy enough to be "too bad it's good" in a narmy way. But there's certainly a potential.
Not to mention, the best is yet to come: "Breaking Dawn", the ultimate wonder of trash literature, is going to be adapted in not one, but two movies. With a good attitude and inspired crew, we might be having a camp classic on the way.
Rating: ** jefflions out of *****
See also
"Eclipse": The logic behind a boring mess (my book review)
"New Moon" movie: Not worth the LULZ
… and other "Twilight" spittings